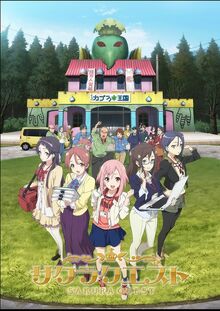 Sakura Quest (サクラクエスト, Sakura Kuesuto) is an ongoing anime series produced by P.A. Works as the third "working" series after Hana-saku Iroha and Shirobako. It was released on April 5, 2017.[1]
Background
Edit
The story focuses on five girls who work on the tourism bureau of a small provincial town. The town revives its micronations program and assigns the five girls as the town's "monarchs" (i.e., tourism ambassadors).[2]
Original work: Alexandre S.D. Celibidache
Director: Soichi Matsui
Series Composition: Masahiro Yokotani
Original Character Design: BUNBUN
Character Design: Kanami Sekiguchi
External Links
Edit
References
Edit
↑ "P.A. Works' Sakura Quest Promo Video Reveals April 5 Premiere", Anime News Network. February 15, 2017. Accessed March 13, 2017.
↑ "P.A. Works Makes Sakura Quest Anime About Girls Reviving Rustic Town", Anime News Network. December 6, 2016. Accessed March 13, 2017.
Ad blocker interference detected!
Wikia is a free-to-use site that makes money from advertising. We have a modified experience for viewers using ad blockers

Wikia is not accessible if you've made further modifications. Remove the custom ad blocker rule(s) and the page will load as expected.